The AMA Phoenix Spectrum Awards is a highly anticipated annual event in the marketing community. As the Valley's only award ceremony devoted to celebrating the art and science of marketing, the event honors the most innovative and effective marketing campaigns and professionals in the industry.
The awards showcase the hard work and creativity of marketing teams across the region, recognizing those who have demonstrated outstanding marketing achievements throughout the year. From branding and advertising to digital marketing and social media, the awards cover a wide range of categories, celebrating the diverse talents and expertise of marketing professionals in Phoenix and beyond.
Winning a Spectrum Award is a significant achievement, as it serves as a testament to the effectiveness and impact of a company's marketing efforts. The event is a valuable opportunity for businesses and marketing professionals to connect, share ideas, and celebrate the power of marketing to drive success and growth in today's dynamic marketplace.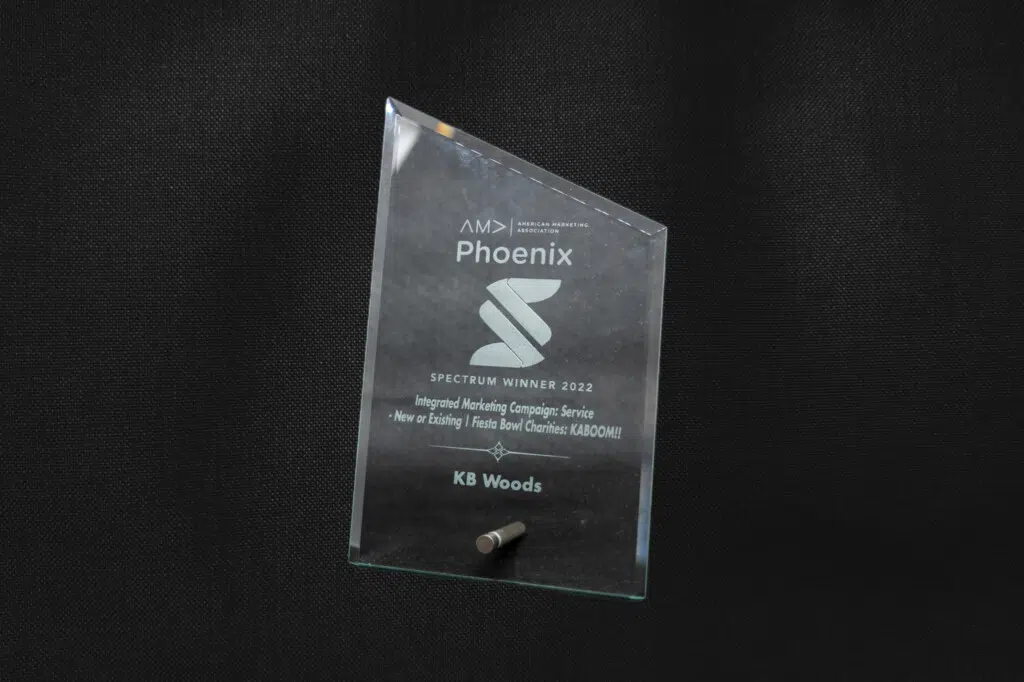 KB Woods Recognized for Integrated Marketing Excellence
AMA Spectrum Awards: 2022 Integrated Marketing Campaign, KB Woods, Fiesta Bowl Charities, KABOOM!
Contact us today to learn more about our PR services


and how we can help you achieve your goals.
More Services
DIGITAL MARKETING • PUBLIC RELATIONS • VIDEO MARKETING

"KB Woods is on the cutting edge of video public relations. Their use of social media and video has proven to be successful for all their clients including ours. What makes them different is that they are truly interested in your bottom line and what makes you profitable. Not very many PR agencies are an extension of your salesforce like KB Woods."
"Working with their team has been nothing but professional, not only is their work amazing but they go above and beyond the call of duty to make sure that you end up with the final product you want!"
"Keith and his team are a pleasure to work with and go above and beyond to meet their customer's expectations."
CALL 602-699-4464 FOR A COMPLIMENTARY PR & MARKETING REVIEW