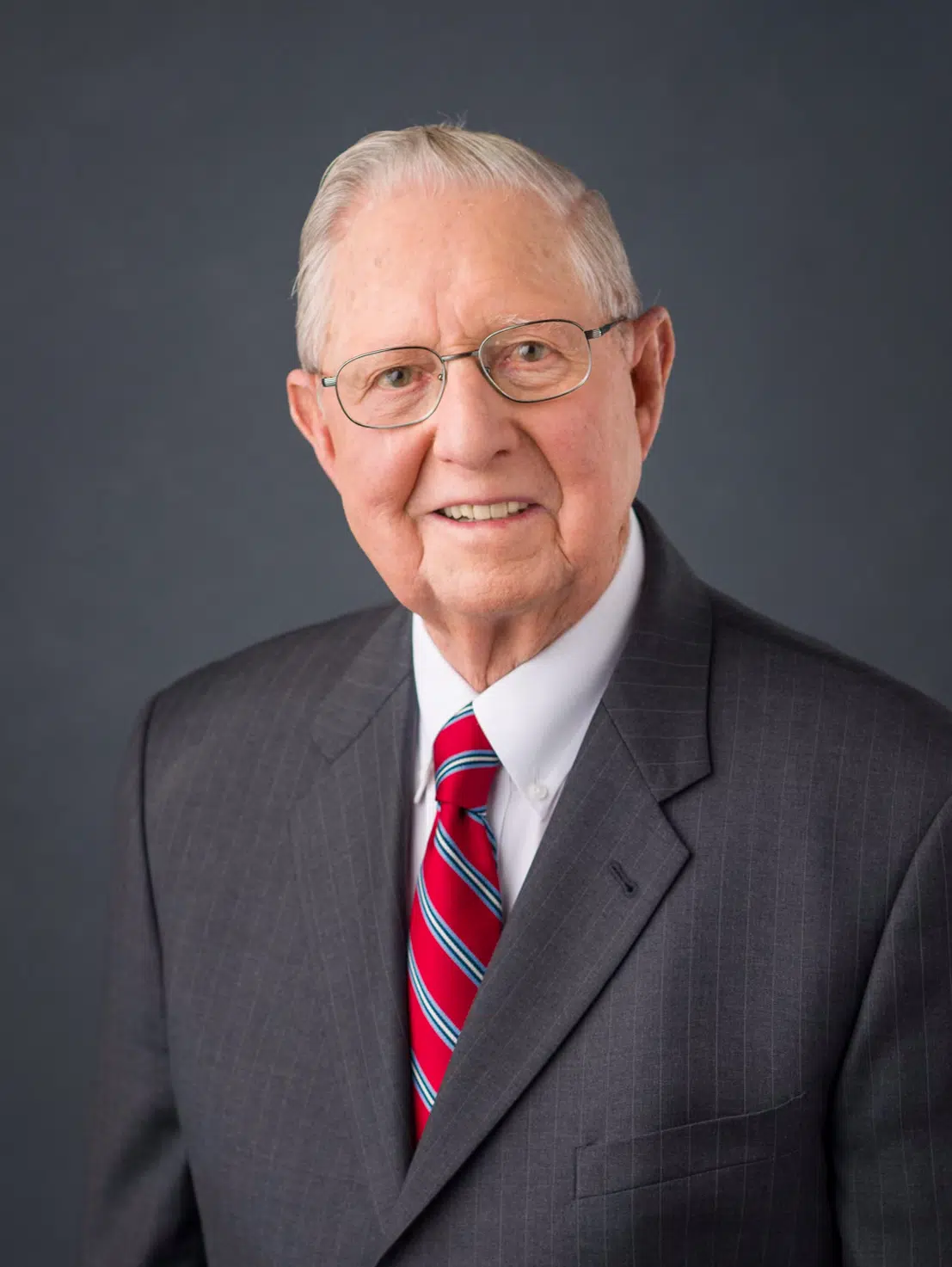 William (Bill) Perry Schrader, Former Scottsdale Mayor and Salt River Project President, Dies at 93
FOR IMMEDIATE RELEASE
Contact: Keith Woods, KB Woods, 602-475-8179, [email protected]
[Scottsdale, AZ] – William (Bill) Perry Schrader, a lifelong public servant, former Scottsdale Mayor, and Salt River Project President, passed away on May 18, 2023, at the age of 93.
Born in Phoenix on August 20, 1929, to William Lawrence Philip Schrader and Lolah Savanah Hurt, Bill's journey in service and leadership began in his early years.
Growing up in Scottsdale, Bill's parents operated a dairy farm after moving from Phoenix. During his time at Scottsdale High School, he actively participated in various clubs, sports, and community organizations, including the Scottsdale Methodist Church youth group and 4-H activities.
In 1958, Bill's civic leadership began when he was elected to the Scottsdale City Council. He later served as the city's Mayor from 1962 to 1964, becoming the first elected Mayor under the City's current Charter. His mayoral tenure saw successful annexations of unincorporated areas into the City, expanding Scottsdale's boundaries. This growth led him to hire Scottsdale's first city planner, who later published the City's first General Plan.
After completing his term as Mayor, Bill was elected to the Salt River Project (SRP) Board of Directors District 7, representing Scottsdale, north Tempe, and east Phoenix. Following his father's footsteps, he served in that position until 1990, when he was elected Vice-President. In 1994, Bill was elected President of SRP and served three terms until his retirement in 2006.
During his time at SRP, the utility celebrated its centennial and received numerous awards for outstanding customer service. Bill's dedication to public service extended beyond his professional roles. He played a crucial role in retaining and improving Scottsdale's significant areas, such as the Scottsdale Airport/Airpark, the McDowell Mountains, and McCormick Ranch.
Bill's volunteerism was exceptional. He was the first chairman of the Scottsdale Rodeo and the Parada del Sol and a former president of the Scottsdale Jaycees and the Scottsdale Charros. He was instrumental in the formation and success of both organizations. Bill was named Scottsdale's Citizen of the Year for his outstanding contributions.
His commitment to community service earned him the Points of Light Foundation's Excellence in Corporate Community Service award in 2001, presented by then-President George H.W. Bush. Bill also served on various boards and committees, including the Greater Phoenix Economic Council, the Phoenix Zoo Board, the Maricopa Community Colleges Foundation, and the Friends of the Arizona Archives Advisory Committee.
Bill Schrader's legacy of volunteerism and dedication to the City of Scottsdale lives on. The city presents the William P. Schrader Volunteer Impact Award annually in his honor, recognizing an outstanding volunteer among the thousands who contribute their time and expertise to Scottsdale.
Bill was a devoted family man. He and his late wife, Bondena, raised four children, William Jr. (Bill Jr.), Lawrence (Larry), Alisa, and Travis. Together, they ran a successful farming operation until 2021, cultivating cotton and alfalfa crops in the East Valley. Bill cherished moments with his family and vacations at White Mountain Club in Pinetop, Arizona, and Cholla Bay, Mexico. He had a passion for the outdoors, indulging in activities such as golfing, hunting, and fishing.
Bill was preceded in death by his son Larry, daughter Alisa, and wife Bondena. He is survived by his sons William Jr. and Travis, twelve grandchildren, four great-grandchildren, and his loving companion of twenty years, Anna Mae Fritz.
A viewing will be held on Friday, June 2, from 5-7 pm at Messinger's Scottsdale Mortuary, located at 7601 East Indian School. The funeral service will occur on Saturday, June 3, from 9-10 am at Scottsdale United Methodist Church, located at 4140 North Miller Road. Following the service, a reception will be held from 11 am-1 pm at Mesa Country Club, located at 660 West Fairway Drive.
In lieu of flowers, the family kindly requests that donations be made to The Charro Foundation. These contributions will continue Bill's spirit of generosity and support for the community he held dear.
CALL 602-699-4464 FOR A COMPLIMENTARY PR & MARKETING REVIEW