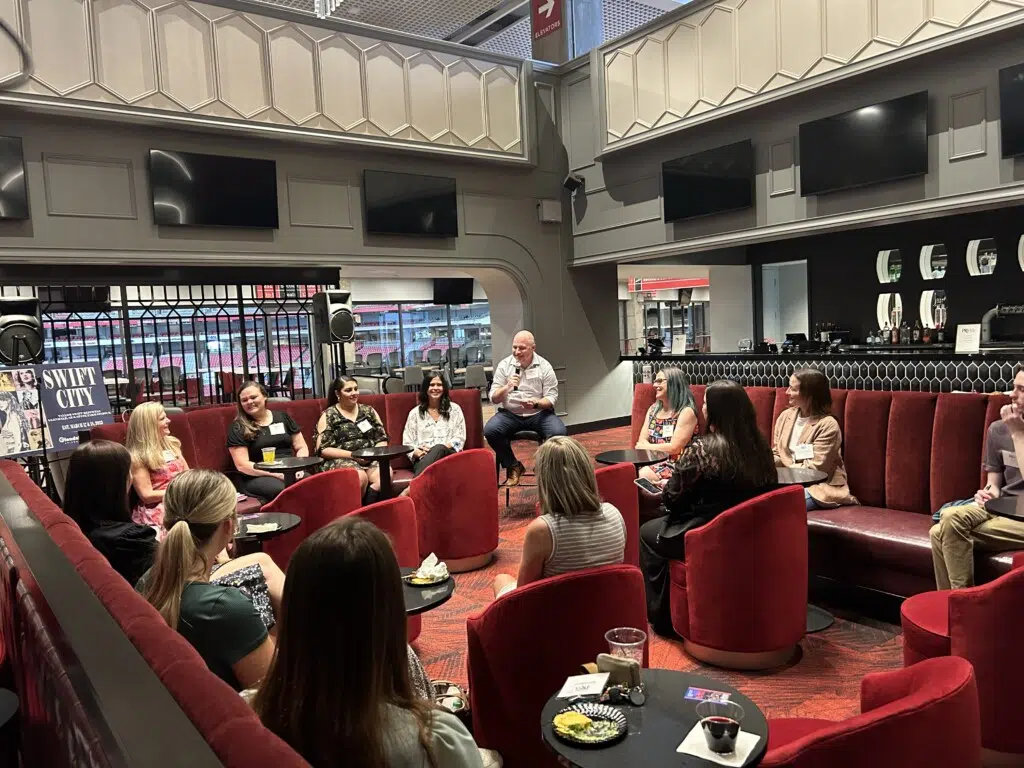 KB Woods recently had the opportunity to be present at State Farm Stadium to cover PRSA Phoenix's latest Discussion Panel, titled "HOW TO TAKE ADVANTAGE OF BIG GAMES AND EVENTS TO SCORE A WIN FOR YOUR CLIENTS." The panel, expertly moderated by Josh Cuddington, the Communications & PIO Director of the Arizona Office of Tourism, featured notable insights from four esteemed panelists. These insights shed light on various aspects of leveraging big games and events for client success. Now, let's delve into the key takeaways shared by the panelists.
Sue Breding – Communications Director for the city of Glendale: Sue Breding shared her experience of putting together the "Swift City" campaign for the Taylor Swift Eras Tour beginning in Glendale, AZ. The unique story revolved around finding a distinctive way to connect Taylor Town and Swift City, creating an unforgettable experience for the start of Taylor Swift's global tour on March 17. This highlighted the importance of creating a compelling narrative and establishing a strong connection between the event and the target audience.
Lisa Sass – Senior PR Executive with Serendipit Consulting: Lisa Sass emphasized the significance of finding partnerships and talent that align with clients' values. By carefully selecting partners and maintaining close relationships with publicists and managers, businesses can ensure consistent brand messaging and reinforce client loyalty. Building and nurturing strong relationships with key stakeholders is crucial for long-term success.
Rayme Lofgren – Sports Marketing Executive (Former VP of Super Bowl Host Committee): Rayme Lofgren discussed the substantial economic impact of hosting mega-events like the Super Bowl, Final Four, and the WM Phoenix Open in Arizona. She highlighted the year-long process of engaging vendors, local businesses, and volunteers to create a successful event. Taking a strategic approach that goes beyond advertising and includes public relations and negotiations is essential. The goal is to make the Super Bowl a regional effort, extending its impact beyond Glendale and making it a significant event for the entire state of Arizona. The Super Bowl's designation as the first NFL-sanctioned watch party further reinforced the event's reach and influence.
Teresa Travese – Freelance Writer and Editor with Sedona Monthly Magazine: Teresa Travese highlighted the significance of effective communication in any environment. She emphasized the importance of finding and pitching compelling stories that resonate with the market. Identifying unique angles and captivating narratives can help businesses cut through the noise and generate interest in their brand or event.
During the discussion, the panelists placed significant emphasis on the utilization of communication calendars to craft compelling social messages and harness the potential of corporate sponsorships. They recognized that effective messaging and collaboration with sponsors contribute to the event's success and hold the key to raising crucial funds for nonprofit organizations. By strategically aligning messaging and engaging sponsors, businesses can establish mutually beneficial partnerships, generate positive economic impact, and enhance the overall influence of the event.
These invaluable insights shared by the panelists offer indispensable guidance for businesses aiming to capitalize on big games and events to secure victories for their clients. By incorporating these proven strategies into their campaigns, businesses can create impactful and resonant messaging, forge strong partnerships with key stakeholders, and seize the myriad opportunities presented by major events. By doing so, they position themselves at the forefront of their industries, effectively distinguishing their brand and elevating their client's success to new heights.
CALL 602-699-4464 FOR A COMPLIMENTARY PR & MARKETING REVIEW